NH03-Precision Nozzle
The precision dispensing nozzle NH03 is designed for micro-dosing adhesive on small-sized chips. It leads the way with an integrated high-precision manufacturing process, designed for easy cleaning; the inner surface of the nozzle is smooth, ensuring smooth material flow and maintaining high fluidity, preventing stringing or blockages, ensuring crucial stability and precision during the dispensing process.

The threaded design has undergone special treatment, enhancing its durability and ensuring it remains deformation-free even after prolonged use, providing stability and reliability akin to a rock. This steadfast performance significantly enhances production efficiency and boosts capacity even further.

This dispensing nozzle can be paired with the NH03 - dispensing adapter. Besides mass production standard specifications, it can also be customized based on customer requirements, including dimensions or customized front-end designs of the dispensing nozzle, helping to address various dispensing challenges and meet unique customer needs. With its high-quality service, it serves as the optimal support on your journey to success!

Vimic's production of dispensing nozzles boasts exceptional quality, efficient operation, and precise control, making it the ultimate partner in achieving innovation and excellence!
Inquiry
Back to List
Prev
Next
Product Description
Product Specification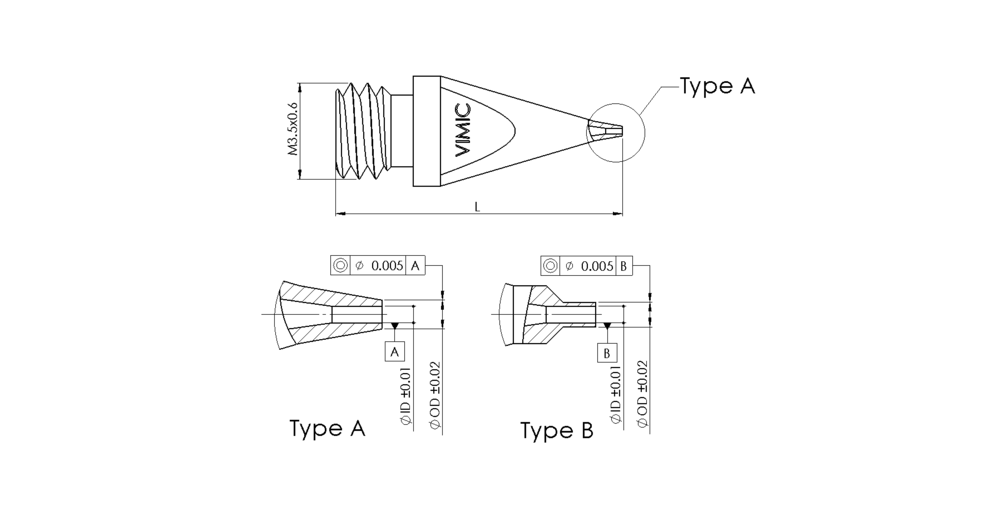 NH03- Precision Nozzle
NH03


| PART NO.(Unit : mm) | ID | OD | L |
| --- | --- | --- | --- |
| NH03-251000a-10.4a | 0.10 | 0.25 | 10.40 |
| NH03-301500a-10.4a | 0.15 | 0.30 | 10.40 |
| NH03-402000a-10.4a | 0.20 | 0.40 | 10.40 |
| NH03-452500a-10.4a | 0.25 | 0.45 | 10.40 |
| NH03-503000a-10.4a | 0.30 | 0.50 | 10.40 |